San Antonio

Phone:
210-225-3121
 
800-292-9999
Fax:
210-225-6235
Email:
E-mail Me
Education
St. Mary's University School of Law, San Antonio, Texas: J.D. - 1981
Graduated First in Class
Honors: With Distinction
Honors: Phi Delta Phi
Honors: Member, John M. Harlen Society
Senior Associate Editor, St. Mary's Law Journal, 1980 - 1981
London School of Economics - 1980
University of Wisconsin: B.S. summa cum laude - 1978

Board Certifications
Board Certified – Personal Injury Trial Law – Texas Board of Legal Specialization since 1987
Board Certified – Civil Trial Law – Texas Board of Legal Specialization since 1988
Board Certified – Civil Trial Advocate - National Board of Trial Advocacy since 1989
Board Certified – Civil Practice Advocate - National Board of Trial Advocacy since 2018
Board Certified – Truck Accident Law Advocate - National Board of Trial Advocacy since 2019
Only 991 attorneys—1.1% of licensed Texas lawyers—are double board certified.
Biography
Daniel J.T. Sciano is Chairman of the Board, Vice President and senior attorney at the Law Offices of Tinsman & Sciano, Inc. With over 38 years of legal experience, Dan has handled a vast variety of civil and personal injury litigation matters throughout his legal career. They have included complex medical malpractice claims, motor vehicle accident claims, truck/tractor and other company motor vehicle wrecks involving serious injury or death, claims regarding unreasonably dangerous and defective products involving a vast array of commercial and industrial products, complex medical malpractice claims, and a panoply of claims brought due to catastrophic injury or death. His practice also involves civil litigation in a wide variety of areas.
Mr. Sciano has a national reputation with regard to his representation of victims (most often small children) catastrophically injured or killed as a result of range tip-overs. He is and has been involved as both co-counsel and local counsel regarding complex consumer class action litigation. His current docket (as it has for more than a decade) is national in scope. He prides himself not only in obtaining fair and reasonable compensation for those he represents, but also works tirelessly in representing his clients to ensure that business practices are changed, or defective products that cause serious bodily injury or death, are withdrawn from the marketplace in an attempt to help ensure similar tragedies don't happen again.
Over his legal career, he has written or spoken on a vast array of legal topics and routinely speaks on a variety of legal topics for the State Bar of Texas as part of continuing legal education of other lawyers. He also has been featured on national and local TV, radio, and in the written media regarding a diverse range of legal topics.
Honors and Awards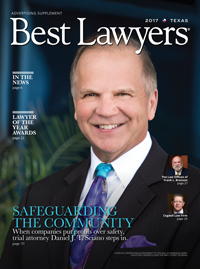 Recognized as the Best Lawyers in America San Antonio Lawyer of the Year in Personal Injury Litigation in 2010 & 2012 by Woodward/White, Inc.
Selected as one of the Best Lawyers in America - Personal Injury Litigation category, 1995-2022 by Woodward/White, Inc.
Recognized as one of the Top 100 Texas Super Lawyers in 2013 by Thomson Reuters
Selected as one of the Top 50 Texas Super Lawyers in the Central & West Texas Region in 2021, 2020, from 2011-2016 and in 2008 by Thomson Reuters
Recognized as a Texas Super Lawyer, Plaintiff Personal Injury: Product Liability category from 2003-2021 by Thomson Reuters
Named one of San Antonio's Top Attorneys by San Antonio Magazine– 2019-2021
Awarded the San Antonio Trial Lawyers Association – Pat Maloney Sr. Courage Award – 2013
Named as one of San Antonio's Top Personal Injury Plaintiff Attorneys by Scene in S.A. Magazine - 2006-present
Selected by a survey of his peers as the #1 Personal Injury Plaintiff Attorney in San Antonio for 2021 as published in Scene in S.A. Magazine
Bar Admissions
State Bar of Texas, 1981
State Bar of Wisconsin, 1986
U.S. District Court Western District of Texas, 1984
U.S. District Court Southern District of Texas, 1994
U.S. District Court Eastern District of Texas, 1995
U.S. District Court Northern District of Texas, 1995
U.S. Court of Appeals 5th Circuit, 1982
U.S. Supreme Court, 1992
Professional Associations and Memberships
American Association for Justice – Member, 1981-Present
American Bar Association – Member, 1981-Present
American Board of Trial Advocates – National Board Representative, San Antonio Chapter
American Board of Trial Advocates – Member, 1981-Present
National Board of Trial Advocacy – Member, 1989-Present
San Antonio Trial Lawyers Association – Member, 1981-Present
San Antonio Trial Lawyers Association – Director: 1988-92; Past President: 1994-95
San Antonio Bar Association – Member, 1981-Present
State Bar of Texas – Member, 1981-Present
State Bar of Texas – Served on Administration of Rules of Evidence Committee: 2006-2012
State Bar of Wisconsin – Member, 1986-Present
Texas Trial Lawyers Association – Member since 1981 and Current Director
The National Trial Lawyers – Member, 2012-Present